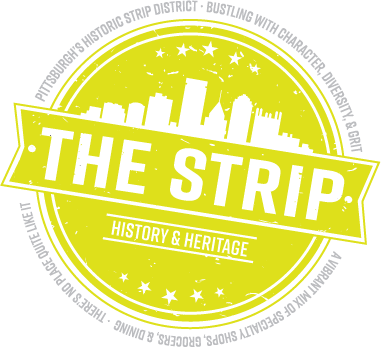 2021-2022 EDITION
PASSPORT TO THE STRIP
STRIP DISTRICT
MERCHANT GUIDE

&

COUPON BOOK
EXPLORE, SAVE, & ENJOY all that this UNIQUE & VIBRANT COMMUNITY has to offer.
The Strip District Business Association and Strip District Neighbors are thrilled to present the 2021-2022 "PASSPORT TO THE STRIP", a coupon book and mini directory for visitors, residents, and supporters of the Strip District.
The PASSPORT features hundreds of dollars in promotional savings from over 80 local businesses, merchants, and companies located in the Historic Strip District.
Many of the businesses listed in the PASSPORT are longtime, family owned, establishments that showcase the best products and services Pittsburgh has to offer. The Strip is a one-of-a-kind neighborhood, filled with character, where you can find uncommon treasures from a diverse community of grocers, specialty shops, street vendors, and dining establishments. And, at the same time, have all of your senses entertained.
Start using your new 2021-2022 Edition promotions right now!
2021-2022 Passports are valid now through the end of 2022.
ORDER ONLINE for LOCAL PICKUP or POSTAL DELIVERY
The PASSPORT TO THE STRIP books are perfect gifts for the holiday season – family, friends, and even office workers!
If you would like to purchase these coupon books in bulk, we can deliver large quantities at a discounted price directly to you.
For more information, contact Alyssa Falarski at afalarski@northriverco.com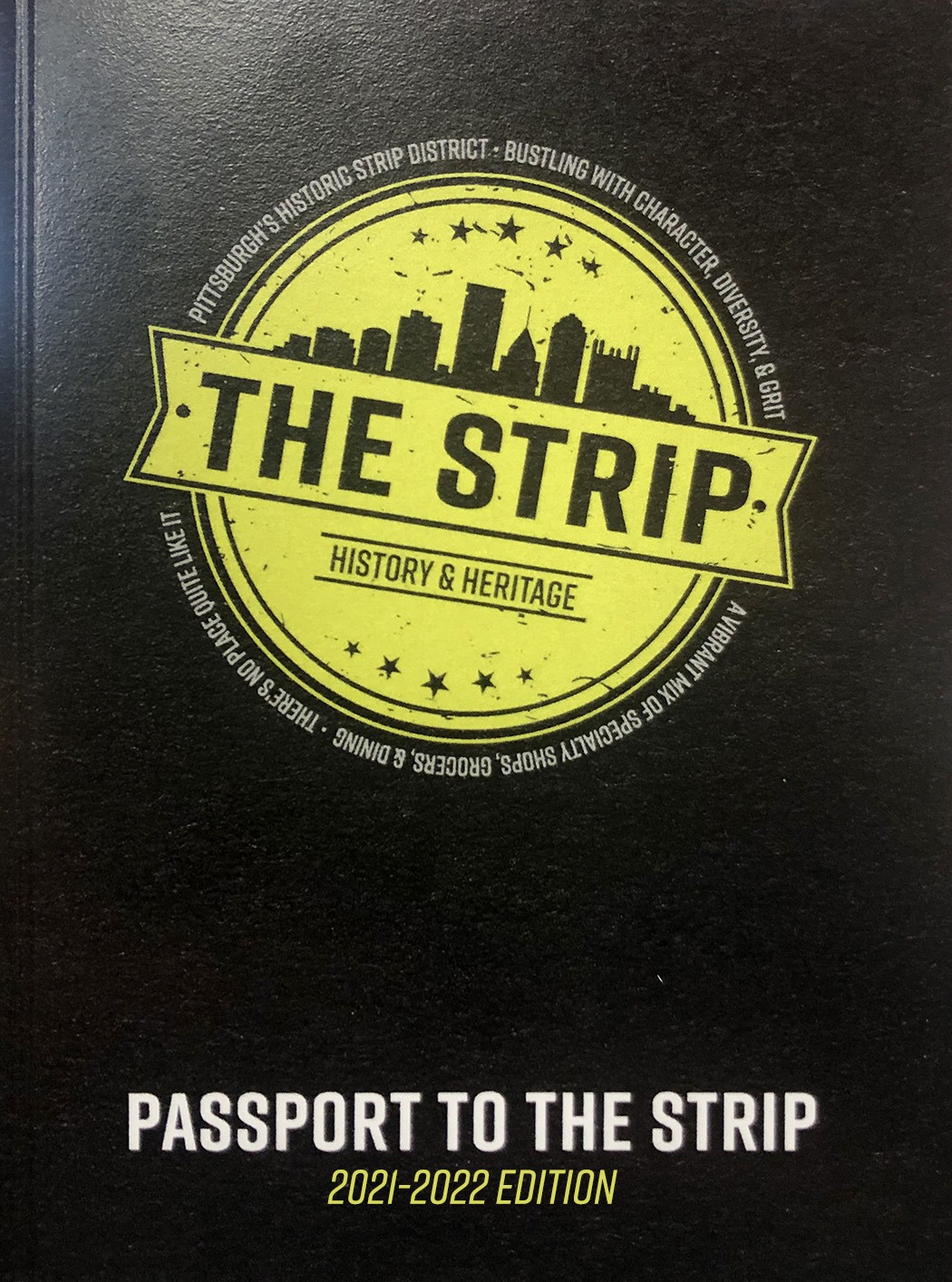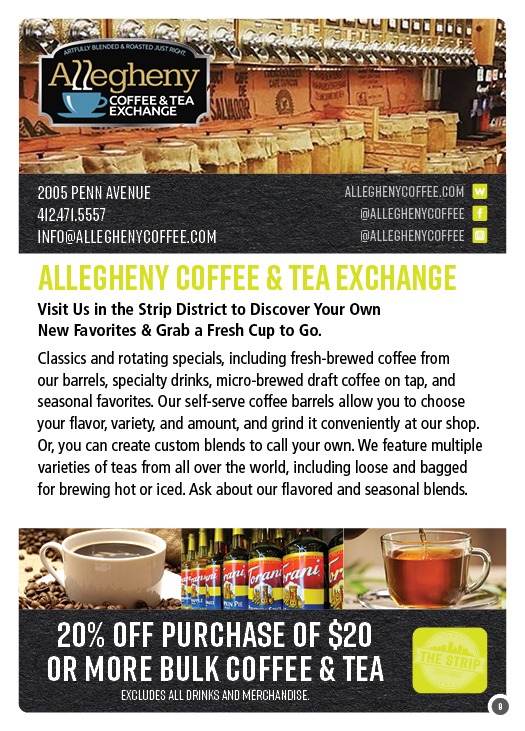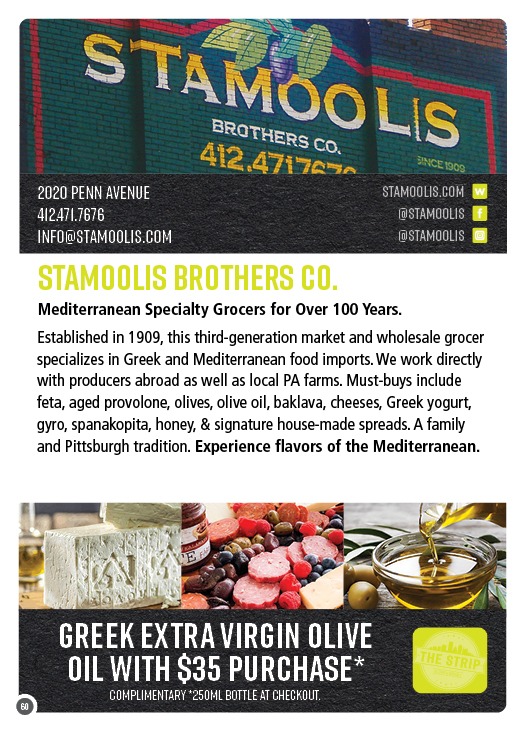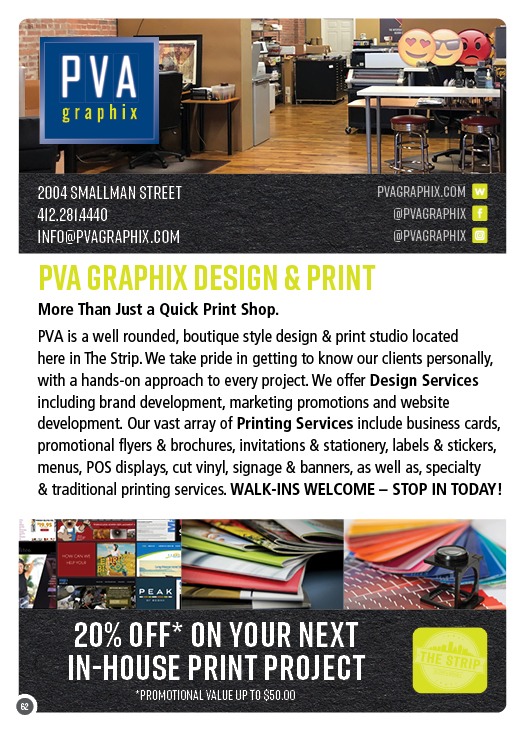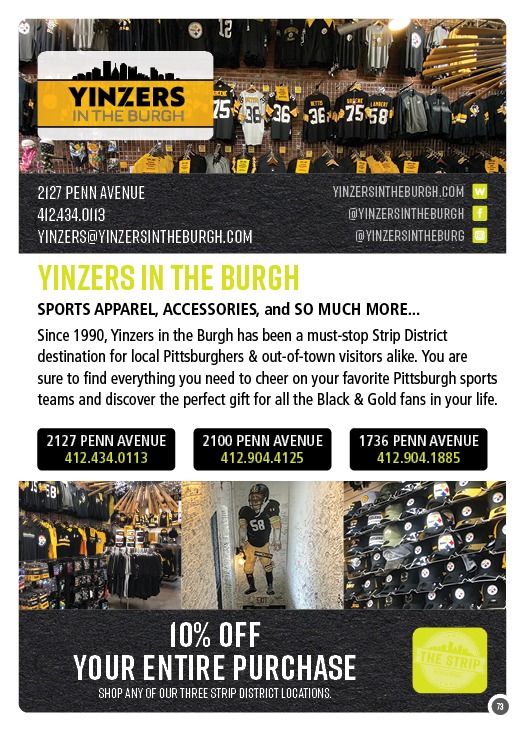 Each page of the PASSPORT TO THE STRIP presents you with a brief overview of a unique Strip District business while also offering you a promotion for visiting or shopping at their location.
ORDER ONLINE for LOCAL PICKUP or POSTAL DELIVERY
START SAVING RIGHT AWAY!
2021-2022 EDITION PASSPORTS are effective now until December 31st 2022.
HUNDREDS OF DOLLARS IN SAVINGS FROM OVER 80 PARTICIPATING STRIP DISTRICT LOCATIONS
PARTICIPATING MERCHANTS & SPONSORS
You can also
PURCHASE YOUR PASSPORTS IN-STORE

at the participating locations listed below in

green.
20th & Penn Parking / Huckster Social
31st Studios
4J "Legging Boutique"
AC Hotel Pittsburgh Downtown

Allegheny Coffee & Tea Exchange

Beef Jerkey Experience
Bold Escape Rooms/Steel City Axes
Cafetano
Carlino's Diner
Cioppino
City Grows
Club Elevate Fitness
Colangelo's
Colker Janitorial
Colombino
Coop De Ville

Courtyard Winery

De Fer Coffee & Cocktails

Desmone Architects
Edgar's Best Taco
Enrico Biscotti
Envy Nail Spa at the Terminal
F45 Training Pittsburgh Strip District
FurKid Rescue

Grandpa Joe's Candy Shop

Harmonic Egg
HELM
Homewood Suites Pittsburgh Downtown
Huntington Bank
In The Kitchen
Insurrection Aleworks
Kindred Cycles
Kingfly Spirits
La Prima Espresso Company
Layali Restaurant
Little Bangkok in the Strip
Lucy's Handmade Shop
Maggies Farm Rum
Mahla & Co. Antiques
Madabolic Stript District
Mancini's Bread Co.
Mery's Gifts & Crafts
Molly's Trolleys Pittsburgh
Om Lounge
OnPar Now
Osteria 2350
Pamela's P&G Diner
Parma Sausage Products, Inc
Peace Love & Little Donuts
Pennsylvania Macaroni Company
Peppi's Old Tyme Sandwich Shoppe
Pho Van Vietnamese Noodles & Grill
Pip & Lola's Soaps & Sundries

Pittsburgh Winery

PNC
Prestogeorge Coffee & Tea

PVA Graphix Design & Print

R Cellar on Penn
R Wine Cellar – Urban Winery
Roland's
Rothchild
St Stanislaus
Sam's In The Strip
Schorin Company
Senator John Heinz History Center
Shehady's Carpets & Rugs
Smallman Street Deli
Spitzer Toyota

Stamoolis Brothers Co.

Stout PGH
Strip District Meats Inc.
The Art Room
The Beerhive
The HUB / The HIVE at 3 Crossings
The Looney Bin

The Olive Tap

The PA Market
The Prime Butcher
The Tavern
The Terminal
The YARDS at 3 Crossings
Troiani Group
Wesbanco
Wholey's Market
Wigle Whiskey

Yinzers in the Burgh
20th & Penn Parking / Huckster Social
31st Studios
4J "Legging Boutique"
AC Hotel Pittsburgh Downtown

Allegheny Coffee & Tea Exchange

Beef Jerkey Experience
Bold Escape Rooms/Steel City Axes
Cafetano
Carlino's Diner
Cioppino
City Grows
Club Elevate Fitness
Colangelo's
Colker Janitorial
Colombino
Coop De Ville

Courtyard Winery

De Fer Coffee & Cocktails

Desmone Architects
Edgar's Best Taco
Enrico Biscotti
Envy Nail Spa at the Terminal
F45 Training Pittsburgh Strip District
FurKid Rescue

Grandpa Joe's Candy Shop

Harmonic Egg
HELM
Homewood Suites Pittsburgh Downtown
Huntington Bank
In The Kitchen
Insurrection Aleworks
Kindred Cycles
Kingfly Spirits
La Prima Espresso Company
Layali Restaurant
Little Bangkok in the Strip
Lucy's Handmade Shop
Maggies Farm Rum
Mahla & Co. Antiques
Madabolic Stript District
Mancini's Bread Co.
Mery's Gifts & Crafts
Molly's Trolleys Pittsburgh
Om Lounge
OnPar Now
Osteria 2350
Pamela's P&G Diner
Parma Sausage Products, Inc
Peace Love & Little Donuts
Pennsylvania Macaroni Company
Peppi's Old Tyme Sandwich Shoppe
Pho Van Vietnamese Noodles & Grill
Pip & Lola's Soaps & Sundries

Pittsburgh Winery

PNC
Prestogeorge Coffee & Tea

PVA Graphix Design & Print

R Cellar on Penn
R Wine Cellar – Urban Winery
Roland's
Rothchild
St Stanislaus
Sam's In The Strip
Schorin Company
Senator John Heinz History Center
Shehady's Carpets & Rugs
Smallman Street Deli
Spitzer Toyota

Stamoolis Brothers Co.

Stout PGH
Strip District Meats Inc.
The Art Room
The Beerhive
The HUB / The HIVE at 3 Crossings
The Looney Bin

The Olive Tap

The PA Market
The Prime Butcher
The Tavern
The Terminal
The YARDS at 3 Crossings
Troiani Group
Wesbanco
Wholey's Market
Wigle Whiskey

Yinzers in the Burgh